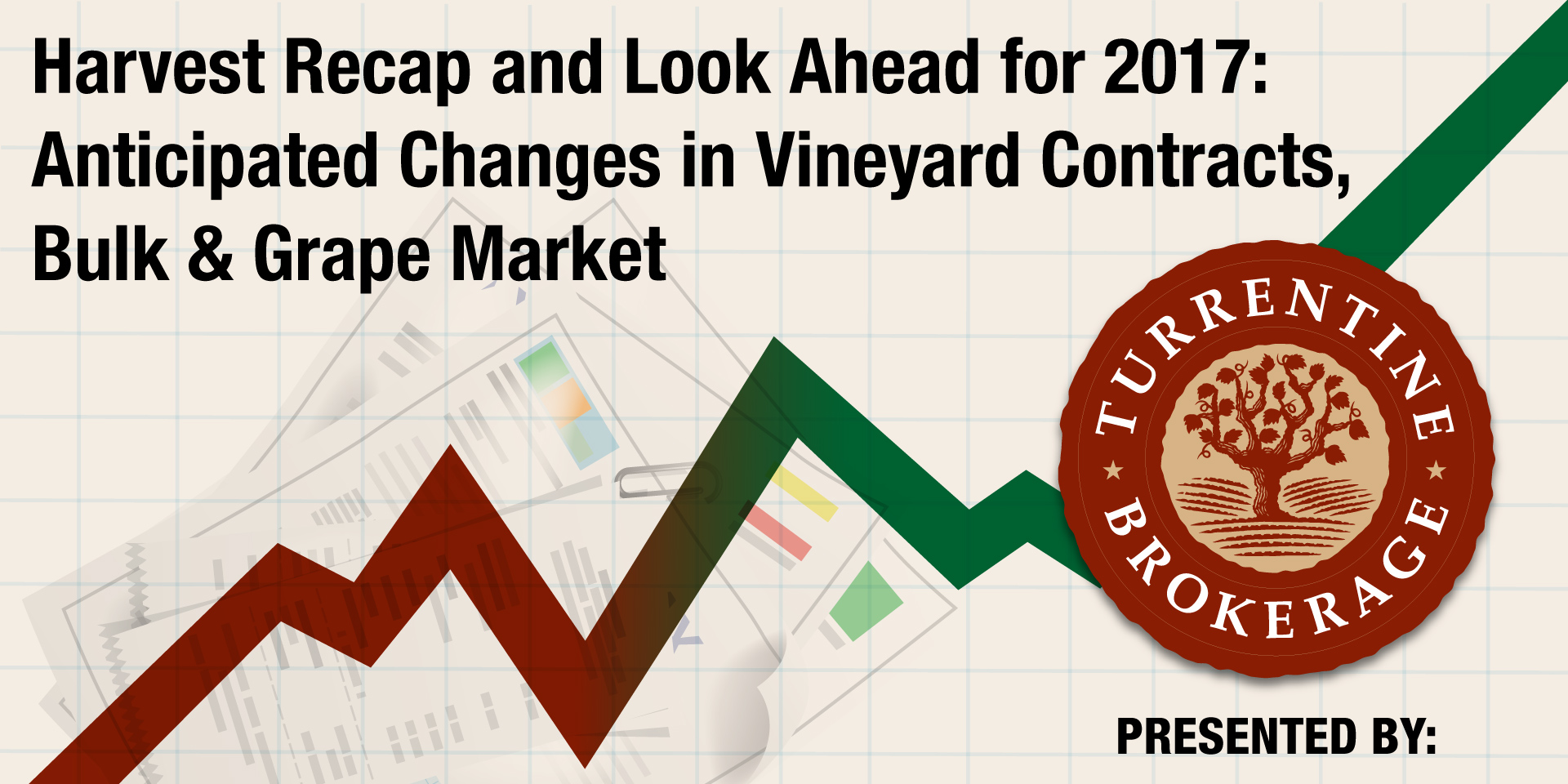 Join us in a Q&A discussion with the Vice President and Partner at Turrentine Brokerage, Brian Clements, as he answers a few questions regarding 2016 Harvest Recap and Look Ahead to 2017.
Hi Brian, thank you for making some time for us today, so we can chat with you about the 2016 Harvest and look ahead towards 2017.
B. Clements:
"Thanks for having me. We're looking forward to some really great numbers, regarding this year's harvest, by the time WIN Expo rolls around."
---
Q
When looking forward and weighing decisions, what industry factors do you consider?
B. Clements:
"We consider many factors in weighting our market forecasting for the industry. Those factors include, but not limited to:

Total gallons/tons of bulk wine and grapes actively for sale along with the respective asking prices versus prices actually paid
The total of vineyard acreage that have been pulled and/or planted
The health of the case good markets
The tonnages delivered by variety compared to previous years and associated with winery expectations
... and perhaps most importantly how does the market 'feel'!
---
Q
What other regions do you watch to give you insight for predictions of the North Coast?
B. Clements:
"The North Coast is really a dynamic in itself; how (and if) Napa and Sonoma winery programs relate to each other as well as how and when Lake and Mendocino counties fit into the buying cycle for Napa and Sonoma wineries. However, if we were to look at another region, we would evaluate how selected variety pricing and demand is doing in respective areas of the Central Coast. "
---
Q
What contractual differences do you expect to see in 2017?
B. Clements:
"Since North Coast grape and bulk markets for most varieties will remain in demand and perhaps in short supply, we may see the continued trend of 3-5 year contracts. We may even see the trend of planting contracts to pick up strength."
---
Clements will be joined by other panelists in the session: "Harvest Recap and Look Ahead for 2017: Anticipated Changes in Vineyard Contracts, Bulk & Grape Market."
Other panelists include: Chris Bowland of Bowland Vineyard Management, Chris Louton of St. Francis Winery & Vineyards, John Mackie of Carle, Mackie Power & Ross, and Steve Sangiacomo of Sangiacomo Family Vineyards.