NorthBay Equipment's Water Conservation Solutions Are Critical to the Wine Industry's Future
Northbay Equipment Service & Sales - Booth #453

California is in a severe drought, and the lack of water affects everyone, from farmers to consumers. With agriculture accounting for the lion's share of water usage, government regulations on growers and producers are tightening, and consumers are increasingly expecting farmers, wineries, and other food and beverage producers to take action to reduce their water consumption.
Sean Ring, the Vice President at NorthBay Equipment Service and Sales, has gained hands-on knowledge of this critical issue from listening to the many winery owners and managers who have come to him seeking better solutions for water usage.
"Wineries use about 7 to 16 liters of water per liter of wine," says Ring, quoting from a study in the Journal of Water Science & Technology. "Vineyards gulp a lot of water, but the wine production process uses considerable amounts at other stages, too, largely to clean the production facility. Our company has focused on water consciousness for years because choosing the right equipment to reduce water consumption will save our clients money and help them comply with regulations."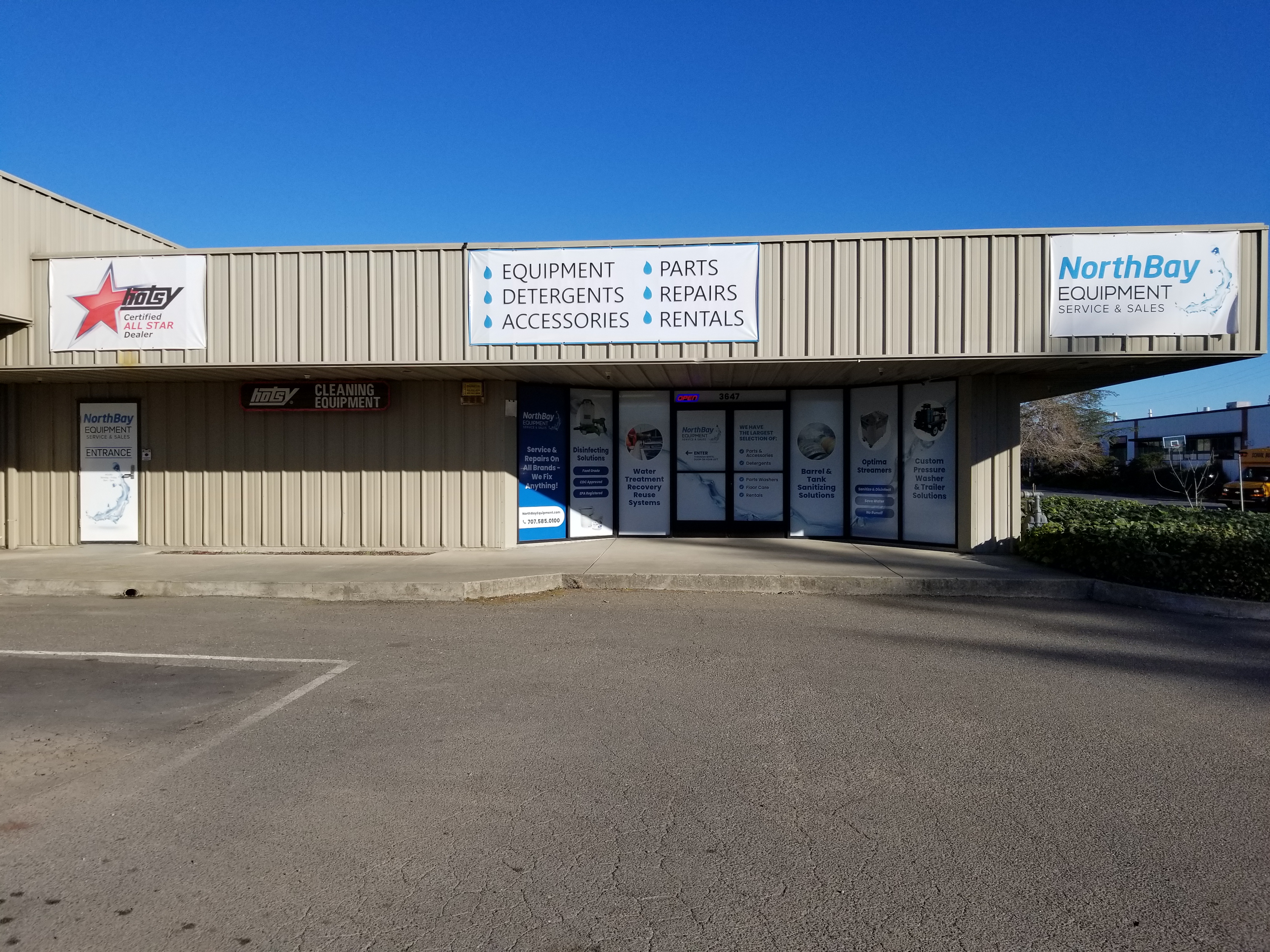 NorthBay Equipment is considered the premier provider of innovative cleaning, sanitizing, disinfecting & water treatment solutions. The locally owned and operated company (formerly known as Hotsy Pacific) has delivered quality equipment and services from its Santa Rosa location to wineries and other industries in the Marin, Sonoma, Solano, Napa, Lake, and Mendocino Counties since 1976.
As an authorized dealer for many equipment manufacturers, NorthBay Equipment's water recycling, reuse, and conservation solutions aren't restricted to a single brand, allowing them to create custom solutions for specific needs. For example, the company worked with the Tom Beard Company to incorporate steam into their 2 & 4-barrel washer systems. The resulting high-pressure wash conserves water by up to 75%, and the automated steam sanitation kills tartrates and Brettanomyces (known as 'Brett').
NorthBay Equipment also provides closed-loop recycling systems that recycle, filter, and reuse water from a pressure washer, or steam cleaner with zero discharge and steamers that use less water than traditional tank and barrel cleaning methods. Their steam generator can sanitize a barrel with a single gallon of water compared to the typical 15 to 20 gallons needed. Other solutions include:
ZCF Rec Filtration System - a powerful and flexible pumping system that is the hub of a wide range of water treatment, recycling, and discharge options.

HBG30 Waste Water evaporator - a conventional waste evaporator with a unique energy combustion chamber that evaporates up to 30 gallons of wastewater per hour.

Compact CoAG – water treatment technology used to remove suspended solids, emulsified oils, and precipitated metals from wastewater.

NorthBay Equipment's comprehensive range includes Optima and Sioux steamers to sanitize tanks and bottling lines, hot and cold pressure washers, Gamajet tank and barrel cleaners, and many other products from water softeners to dry ice blasters to disinfectants, detergents, and chemicals needed to clean and sanitize. With the largest selection of parts and accessories in Northern California, the company also services all brands, not just those they sell.
Stop by the NorthBay Equipment booth #453 at the EXPO to learn more about solutions for your winery's water conservation and management needs. Bring a business card and receive a raffle ticket to be entered in a drawing for a free $1400 Hotsy gas-engine pressure washer!